By Steve Young / Ministry Leadership / 10.01.14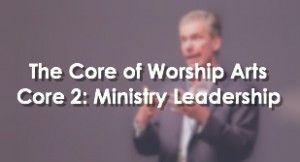 Part of what makes up WALI's identity are three core areas that we embrace, champion and nurture.  These are our 3 Cores.  This post is designed to give a brief overview of the 2nd core area: Ministry Leadership and goes along with our other posts on core 1 & 3.
In our church body (LCMS), the value of core 1 (worship theology) is almost a given.  We understand the value of sound theology.  Core 3, practical skills, are also valued as we depend on these skills as they are what get us from worship planning through execution.
However, it's core 2, ministry leadership, that is often overlooked or undervalued.  Our felt needs for growth often revolve around finding the best projectors, the best software, getting our bands to sound better, our singers to sing with one voice (all core 3 issues), sometimes overlooking core 2 issues like managing conflict, leading out of mission/vision/values, or growing/broadening our ministry.  In fact, it's our experience that most of the big problems or challenges in ministry stem from either core 1 (theology) or core 2 issues.
It's not usually the wrong note in the prelude from three weeks ago that keeps us up at night.  It's the fractured relationships, lack of unity, or lack of movement/growth that make up the hard stuff of ministry!  Becoming a strong ministry leader is vital to the health and growth of your worship arts ministry.
By separating our deliverables into three core areas, we have, in effect, defined the necessary components of a thriving worship arts ministry.  In the coming weeks, months and years, we will be championing great leadership content that is designed to challenge, equip and encourage you as you embrace your calling as a worship leader.