By pjs / Practical Skills / 07.10.14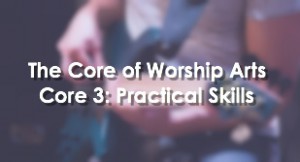 Part of what makes up WALI's identity are three core areas that we embrace, champion and nurture.  These are our 3 Cores.  This post is designed to give a brief overview of the 3rd core area: Practical Skills, and goes along with our other posts on core 1 & 2. 
Core 3: Practical Skills refers to singing, playing an instrument, running sound, creating graphic files for projection, arranging music, or any other creative/productive skill that would enhance our worship arts ministry.  While we've placed a lot of emphasis on the importance of worship theology and ministry leadership, the reality is that core 3 is equally important in that it is the expression of both core 1 & core 2.  
So why does core 3 matter?  It's a matter of stewardship.  Doing the best we can with we've been entrusted.  As leaders, our commitment to practical skills creates a culture for our teams. If we're not committed to excellence, our team members won't be either.  If we are not concerned with excellence in the expression of the worship arts, it often means the difference between the congregation engaging in worship, guests feeling welcomed, and the health and growth of our congregations.
Excellence matters.  In the coming weeks, we'll be creating some exciting, practical content designed to be put to use right away by you and your team.  As always, let us know if there's anything you'd like us to cover.